3-7 Hammers Road, Northmead, NSW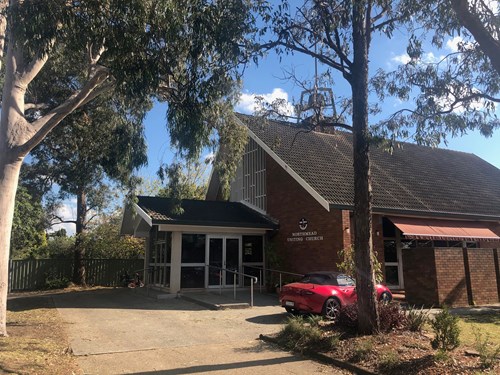 Daily Chat
https://www.facebook.com/northmeadunitingchurch/videos/4767383406626232
1. Due to the current "Stay at Home orders", there will be no Church service in the building again this week, however, you are most welcome to join us for a Zoom service on-line, as per the following details at 9.30am.
Just click on the Zoom Meeting link below.
Looking forward to seeing you there.

Join our Zoom Meeting
https://uca-nswact.zoom.us/j/95778738282

Normally in the Church building at 9.00 am
3-7 Hammers Road, Northmead
2. A Prerecorded Video 
 Each week a prerecorded  video is available here usually from Saturday evening through to the following Saturday. If you wish to see the service at a later date it can be found under "Worship" at the head of this page. You do not need to belong to Facebook to access this video and there is no requirement to interact, although you are welcome to "like" or comment if you wish. Just click on the link:
https://www.facebook.com/northmeadunitingchurch/videos/260921802627464
3. Walking Church (on Saturday)
Cancelled during lockdown
On the 2nd and 4th Saturdays of the month at 9.00 am, inside the Tudor gate, Parramatta Park. (Covid safety requirements set out below) 
Children and Young People
UCA Pulse is mailing out different resources every week   
Direct debit payments to the church
If you would like to make an ongoing contribution to the church by direct debit or make a one off donation even though the congregation is not meeting together in our usual way, the church account details are:
Account Name:  Northmead Uniting Church (Direct Giving Acct)
BSB: 634 634 (Uniting Financial Services Sydney)
Account no.: 100025911